Archive for the 'TV Projects' Category
Picture – Joe Fattorini  Matthew and Joe turn the tables on Louise the make up artist!
Picture Melanie Jappy
Picture – Nicky Johnston Instagram
Picture – Carl Prechezer June 13th Instagram.
Matthew is currently travelling around France filming for The Wine Show.  The base for this second season seems to be in the languedoc-roussillon region but he is visiting various towns to carry out his wine challenges with Matthew Rhys.  First pictures here from Melanie Jappy the producer via instagram …
The Daily Mail has an article and new behind the scenes video of Matthew filming The Crown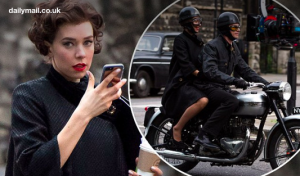 Article and video here:-
http://www.dailymail.co.uk/tvshowbiz/article-4462408/The-Crown-shoots-Margaret-s-love-story-Snowdon.html
http://vanessa-kirby.com has some new pictures of Matthew and Vanessa taking a break from filming The Crown.  Matthew is to play Antony Armstrong-Jones who marries Princess Margaret, played by Vanessa.  http://vanessa-kirby.com has kindly given permission for photos to be posted here.  [Please do not re-post without credit to http://vanessa-kirby.com]   Matthew seems to have blond hair for this part!  He looks a bit like Adrian Veidt/Ozymandias – his role from 'Watchmen'.
Michelle Dockery spilled the beans that Matthew will appear in Godless later this year.
Your former Downton Abbey co-star Matthew Goode is also in the film.

We keep crossing paths, me and Matthew! He's also in Godless, for Netflix which comes out at the end of the year and also we were in a film called Selfless where we don't cross paths, and we don't cross paths in this, but we did in Downton Abbey. I feel like it's a good sign—if Matthew is in the same projects as I am, I'm doing something right.
Article here – http://www.townandcountrymag.com/leisure/arts-and-culture/news/a9946/michelle-dockery-interview/
Newer Entries »