About Matthew
Early life  
[Sources and Credits in brackets]
Matthew William Goode was born on the 3rd of April 1978 in Exeter, Devon, England. He grew up in the small village of Clyst St. Mary in Devon.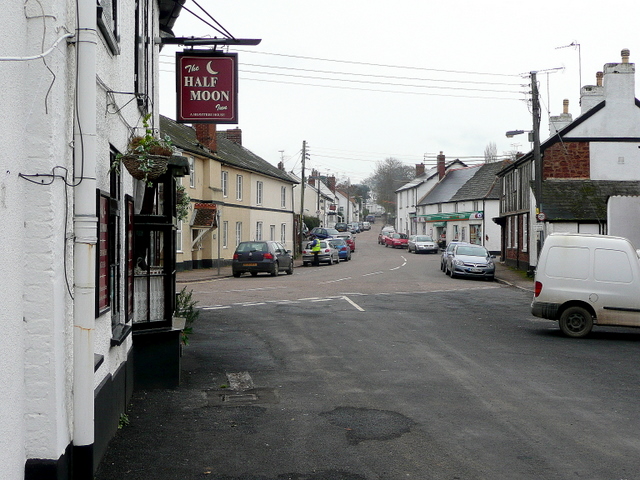 [clyst st mary]
Matthew does not come from a wealthy background – he says that he grew up in a two bedroom house where the doors were so low he had to duck to get through them.  Matthew's mother, Jennifer, was a nurse and his father, Anthony, was a geologist.
[ Telegraph Announcements/MG interviews]
Although Goode comes across as old-school posh (and many of the parts that have most captured our attention channel this part of him), he says he had a fairly ordinary upbringing. "My mother divorced from her first marriage with three kids and met my father in a folk music club. He was a geologist and she was a nurse".  [Interview with Viv Groskop for Red].
Despite the upper-crust accent he's affected in many of his roles, Goode is the first one to fervently insist "I'm not posh, not in the slightest. My parents spent some money on my education, but I wasn't born to the purple. [Toronto Star]
Matthew is the youngest child of five siblings.  He has a brother, James, and two half brothers and a half sister, television presenter Sally Meen, from his mother's previous marriage.  Sadly Matthew's father died before he could see his son's success.
Matthew shared a bedroom with James, but because his older brother was a boarder at school he was away during the week which left Matthew on his own at home for a lot of his childhood.   He says that he spent most of his time in his room reading books and eating. "I had to (if you'll excuse the expression!) 'entertain myself' … and let's face it I was probably doing a lot of that as well!" [New York Times Screen Test].
He does remember 'performing' from an early age – "Probably being the youngest and fighting for attention is something to do with it."  "I'd always been someone who sang in the choir. I was head chorister of my choir at my prep school and we did school plays and bits and bobs."  [Backstage]
Jenny Goode was also an amateur theatre director –  "She did have a huge passion for the theatre, though, and ran The Campion Players, the local amateur dramatics group. She involved me from a young age. I always thought that actors were an incredibly fun bunch and smart with it." [Red]
Matthew has been on stage since a young age.  He remembers playing a singing rodent in 'The Wind and the Willows' when he was about 6.
Matthew's mum says – "From an early age in junior school productions, I saw that he had considerable presence on stage and found learning both the script and the music very easy. At that age of course children show a wide area of abilities, he particularly loved all forms of sport and had a good ear for singing and playing a musical instrument."  [Devon live]
He says that his mum was an orphan and joked that – "She genuinely at one point thought she was Laurence Olivier's love child. She had an incredible passion for it."  [Herald Scotland]
[Matthew with his mum Jenny at the Brideshead Revisited premiere / Richard Young]
Matthew enjoyed being around theatres, amateur actors and being out until late in a "Brilliant adult fantasy word." [Clocktower Radio].  However he never considered acting as a career and as he got older he got shy about performing because he tended to be a blusher.   He admits that his first kiss was on stage – "Michelle Halford was her name – she was a little minx." "We had a kiss on stage.  It wasn't particularly enjoyable but it was my first."[New York Times Screen Test interview]  Unfortunately he gave up acting in his teens because he went red on stage, [Guardian] and he was more interested in sport, "so it sort of went on the back burner a bit" [Backstage]. Matthew didn't take up acting again until he was in Sixth Form (about 17).
Meanwhile Matthew excelled in sport.  Matthew Rhys asked him "How big a part does sport play in your life?" Goode: "It used to play a phenomenal part in my life, because I used to play a lot of county sport, a lot of sport for my school. I love team sports".  [Interview Magazine].  He played hockey and cricket representing his County/school but golf became his main sporting passion.
Matthew started playing crazy golf with his brother James, then progressed to 'pitch and putt' and on to the full size version when he was about 14.  His parents loaned him some money to pay for club fees. "I was the dream child for the holidays.  My parents would drop me off [at the golf club] first thing and pick me up when the light was going." [Robb Report]  He reached a high level of skill at an early age with a handicap of 4 but that has dropped to a 7 today. [Discussion with Greg Kinnear at Dunhill Links Tournament].
Matthew talks about his relationship with his late father very fondly – sadly he died early in Matthew's career.  He refers to how his father taught him about wine and Scottish whisky.  Matthew's father also taught him to fish and he talked about this in an interview with his friend Matthew Rhys.
RHYS: When did you first start fishing?
GOODE: I will never forget it. I used to go to Wales for canal holidays. When I first started fishing, I was on the Brecon Canal in Wales. We pulled up in our canal boat and Dad got out these two maroon, telescopic fishing rods, and put a reel on.
RHYS: Was your father a fisherman?
GOODE: Yes, he loved it. In fact we used the tackle he used as a boy. It's no longer with us. He put a couple of maggots on, cast it out, and handed it over to me. I would've been eight or nine. Then, about five second later I saw the thing just drift away and I had got one, and it was a beautiful roach—a perfect little roach, silver, about three-quarters of a pound.
RHYS: What is it about fishing?
GOODE: It's quite exciting—it's like acting, some bits are quite exciting and then there's moments where you're not doing anything or nothing is happening.  [Interview Magazine]
Education
Matthew's parents worked hard to pay for himself and James to have a private education.  James boarded at his school while Matthew was a day boy at Exeter School, an independent school in the city of Exeter in Devon.
[DevonLive]
Matthew studied A levels including Geography, Drama/Theatre studies and English.  He was considering a career in Archaeology. "For a time I wanted to do archeology, also because my father was a geologist." [Style Magazine Italia] but his drama teacher, Stephanie Tratmore, had spotted his talent and encouraged him to take up acting again.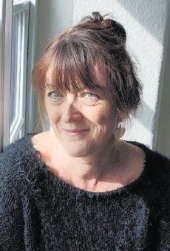 [Matthew's drama teacher Stephanie Tratmore/Crupeck – Exeter School]
Stephanie was putting on a production of Sean O'Casey's 'The Plough and the Stars' and persuaded Matthew to audition for the part of socialist 'The Young Covey.'  He was reluctant because he hadn't been on stage for a few years and he was still a blusher. Stephanie got her way and he enjoyed playing the part.   "it wasn't until I was 17 that I really caught the acting bug," [Herald Scotland]
During this time Matthew was in many Exeter city productions including 'Richard III' (as the ambitious Buckingham) and 'Waiting For Godot'. [Devon Live]  He recalls being in productions at the Northcott Theatre and Barnfield Theatre in Exeter.
[Northcott Theatre Exeter]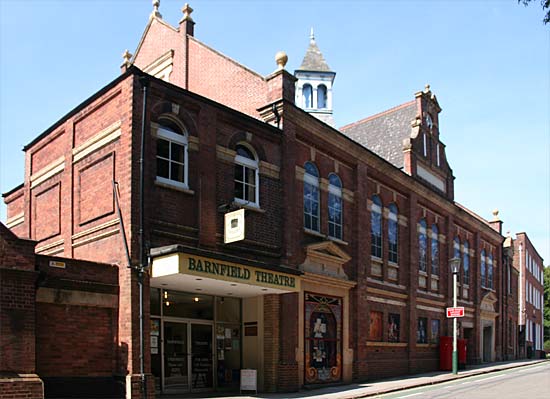 [Barnfield Theatre – Exeter]
Stephanie and Andrzej Chrupek taught Matthew drama at Exeter School.  He got top marks in GCSE drama and A-Level theatre studies but worked hard at his craft. Mrs Chrupek said:
"He had amazing concentration when he was on the stage and an intensity. He was also very intuitive and had incredible stage presence."  Mr Chrupek added: "He had a very charming smile, which is obviously his trademark. He hasn't changed a lot. He was great, great fun to be around and he had charisma on the stage. Your eye was drawn to him when he acted."  [Devon Live]
His mum proudly says –
"Towards the end of senior school, I began to see someone who could sustain and create a character and make it his own and I increasingly began to think that a career as an actor was a real possibility." [Devon Live]
However Matthew decided to go to University rather than go straight to Drama School. "By the time I got to 18, I had to get a degree to make my parents happy." [Backstage].  Matthew was also considering a career in sport and briefly considered Archaeology [Style Italia] before he finally decided to study Drama at University because he didn't think he was good at anything else.
There was a lot of competition to do drama as a degree course and so he needed high grades. He remembers that most drama courses required an 'A' and 2 'B's at A level.  The University of Birmingham offered him a place if he got 3 B's so he opted for their course.  He actually got 2 'A's and a 'C' at A level so he was accepted to study a BA in Drama and Theatre Arts – graduating in 1998. [Clocktower Radio Interview]
Matthew remembered some good times studying at Birmingham in this Birmingham Mail interview:-
'The 31 year-old star has fond memories of the city where he attended Birmingham University to study drama.
And as well as treading the boards in the city's theatres he managed to hit a few of the dartboards in its pubs, too.
"It was bostin'," he laughs. "I had a great time. I used to live on balti. There were a lot of curry houses that used to open late that I remember fondly. I wasn't thinking about being an actor but I enjoyed doing drama and it had a very good course.  I really came out of my shell and I met the people who are still closest to me there.  We were like cock of the walk and thought we ran the town, or we thought we did as far as the drama course went. We were members of the summer darts league at The Brook Pub in Selly Oak, which got in the way of a lot of work."
[Birmingham Mail]
[The Brook Pub in Selly Oak – now demolished from Our Brum]
Matthew's University of Birmingham graduation picture was seen in the movie 'Silent Night' –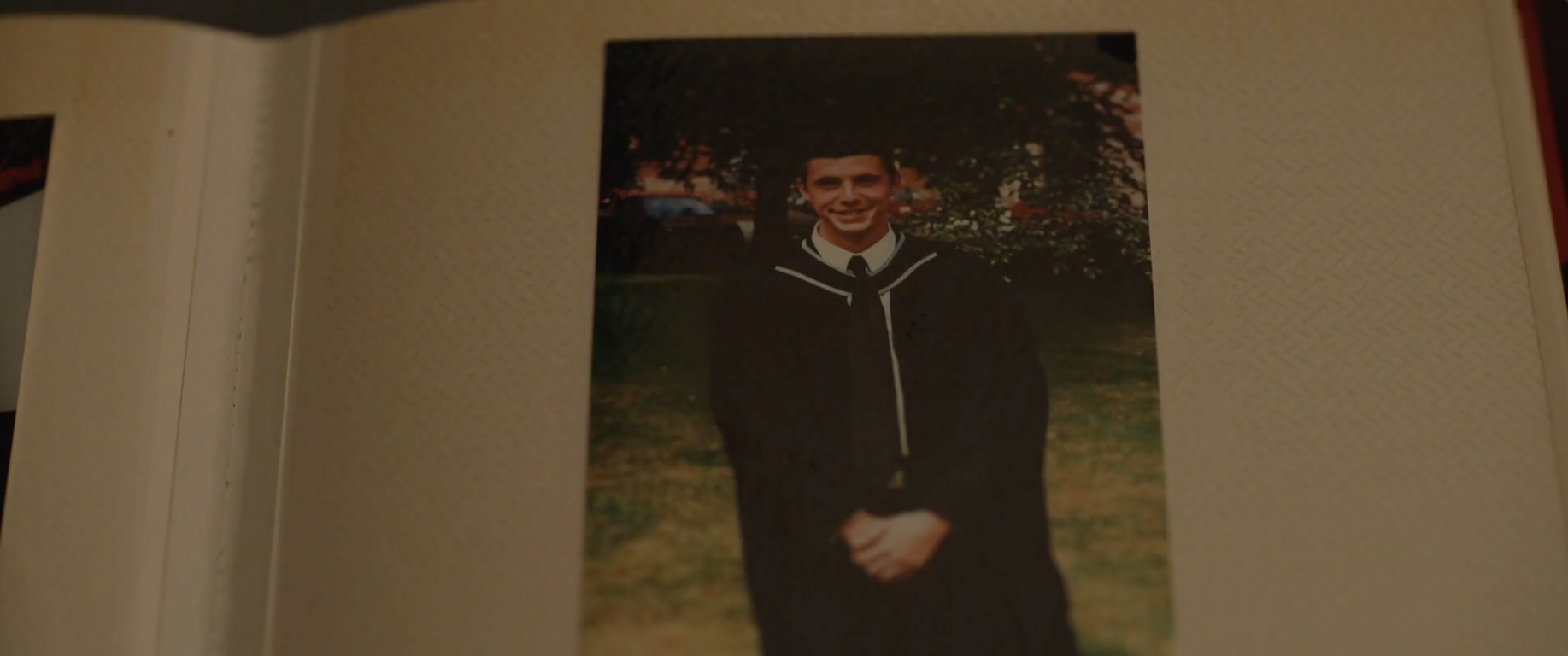 [Screenshot from 'Silent Night'.]
Towards the end of his degree Matthew still wasn't totally set on a career in acting but he says that his friend Gary got a place at Drama School and "I knew I was a better actor than him [laughs] so I thought I could do it too!"  "I thought, I should give that go! Why don't I give it a crack?" [Backstage]  He says – "If you ask my teachers and my mother they would say 'We always knew' – but I didn't!"  [Clocktower radio interview]
Matthew applied for a loan to attend drama school and got a place at London's Webber Douglas Academy of Dramatic Art.  I went up to London to audition and managed to get the postgrad course there."
Early Career
Matthew's first big break came when he was cast as Guy Bennett (based on the spy Guy Burgess) in 'Another Country' during his course at Webber Douglas.  Matthew's vocal coach recommended that Simon Beresford of 'Dalzell and Beresford' agent's take a look at his work.  Simon saw the production and said "I'll take him!"  Although Matthew remembers that Simon cleverly advised him to – "Go and see everyone else and then come back and see me."  Matthew took his advice but returned to Simon "I've seen everyone else but I'd really like you to look after me please."
[Matthew with his agent Simon Beresford]
Matthew recalled an early job opportunity:-
There was an advert very early on when I was just starting to work with Simon Beresford, my agent. I would go out for a lot of adverts, which was a very depressing place to go because there were just lots of very beautiful people, models generally, and you're asked to do the most stupid things. There was this crisp packet commercial, some chips commercial, and I looked at the brief, the instructions of what they wanted, the script if you will—hardly, though—and it involved having to make out with the crisp packet. In the waiting room, sitting surrounded by all these beautiful people, I'm thinking, They're never going to fucking give me a job! I was like, I'm just going to go to the loo and then I'll come back and put myself on tape. I just walked out the door. I'm not saying it's below me; I was just tense with embarrassment. I just couldn't do it. Another slow day in the Matthew Goode career! I said to Simon, "I know that some people can make a lot of money doing commercials but please never send me up for one of those again." Simon was probably like, "This guy just doesn't want to work!" [Backstage]
Despite this unpromising start, Simon has supported and shown faith in Matthew over the years.  When Matthew's father died he says that Simon took over that role in his life –  
'I'm so lucky, my agent Simon Beresford lent me money for my rent [when he was unemployed]. He's an extraordinary man and I sit here solely because of him. After my father died, he's become like a father, though he doesn't give me quite as many dressing-downs.' [Guardian]
Like most actors Matthew had to take other jobs between parts – he told Backstage about one of them:-
It was, like, a telesales job where you cold-call people. I think I did it for about two hours and then I was like, I've got to get out of here! It's making me quite upset and I'm not going to be good at this job where you have to lie to people and rip them off—it felt like a scam. So I produced this fake phone call, pretending my agent had phoned and said that I had got the part in the next Steven Spielberg movie. I had to make a real show of it and then everyone in the telesales started getting up and giving me high-fives and hugs. Suddenly I had this huge sense of euphoria and then I walked out in London and thought, Fuck, I've got to walk home! I haven't got any money! It was awful, but luckily a few days later I did get a job. But it wasn't with Spielberg. [Backstage.com]
Matthew's early career was spent on the stage at the Colchester's Mercury Theatre –
..
[Mercury Theatre – Colchester]
Matthew appeared as 'Moon' in Federico Garcia Lorca's 'Blood Wedding' –
[Mercury Theatre – Colchester]
He also appeared as Ariel in 'The Tempest' –
[Mercury Theatre – Colchester]
The Guardian singled out his performance as Ariel for praise – 'Like a lot of the production, Gregory Floy's Prospero is subdued, but Matthew Goode's Ariel has real presence: a slight, nimble, almost ordinary figure in trainers who, nonetheless, casts a spell across the centuries.' [The Guardian]
Since then Matthew has not performed on stage – "It's kind of ironic that I trained for the theatre, but hardly spent any time there at all. I think I need to go back to do it again before I lose my nerve. I don't have any great pressing need to do 'my' Hamlet, but I'd love to play Tom in The Glass Menagerie or something new by one of our amazing British playwrights." [Toronto Star]
Around this time Matthew also did voice characters for the animation series Bounty Hamster which showed off his skills performing different accents. By the time he was 24, he was making his TV debut in the revisionist Cinderella saga, 'Confessions of an Ugly Stepsister' for Disney in 2002 and from then on, his career took off.
Matthew modestly attributes his success to – "great agents and good luck. To this day, I remain extremely grateful as well as slightly afraid." [Toronto Star]
Was he fulfilling his mother's dream by pursuing an acting career? "I don't know about fulfilling her dream. I think she's incredibly proud."  [Herald Scotland]
Relationships and Family
Matthew admits that he had more than his "fair share" of short term relationships at university and college. However he has said that he has only had two serious girlfriends. His first was Margot Molinari – who was at Drama School with him.  Matthew  told USA today that she is half Italian and half Irish and so she was quite 'feisty'!
Goode takes a moment to brag about his London-based girlfriend of four months, actress Margot Molinari, whom he met in drama school. At this very moment, she's in a jet en route to Los Angeles to hook up with Goode for the West Coast premiere of his film."She's incredibly beautiful. I never thought I had a shot with her," says Goode. "I'm going to be the proudest man on the carpet." [USA Today 2004]
[Matthew with Margot Molinari at the premiere of Chasing Liberty in 2004].
In 2005 Matthew met his future wife Sophie Dymoke – on his doorstep!
The missus is called Sophie. How did they meet? "She was sitting on my doorstep when I came home from filming in Poland or somewhere. That's a good few years ago. She was best friends with my neighbour Emily in Clapham. She'd locked herself out. I was a bit flustered and quite tired. The way I remember it I opened the door and carried her bag up. But apparently I shrugged my shoulders, didn't speak to her, opened the door but didn't carry her suitcase upstairs."   She didn't hold it against him. "We got together at Emily's wedding."  [Scottish Herald]
[One of the earliest photos of Sophie and Matthew together at the premiere of Match Point in December 2005]
Although Sophie is English (from Kent), she lived in New York at the time they met.  She worked in the fashion business as a sales director and had been working in New York for 10 years.  Matthew lived at her flat in New York when he was out of work.  Eventually when he was getting more work in the UK Matthew persuaded Sophie to come back home and live with him.
"My girlfriend, who is English, was living in New York, and I convinced her to move back. I think she was waiting for me to become a man, which I hope I have."  "But Englishmen never really grow up, I think. Our teeth go and our bodies may crumble, but we never really change." [New York Times].
'Now he's blissfully settled with girlfriend Sophie Dymoke – 'she works in the business side of fashion. I still don't really know what she does; she's given up explaining it' – who has moved back to the UK from New York, where she worked for cashmere brand Vince, so she can be with him. His brilliant smile when he talks about her means Sophie's definitely made the right decision. Though he says he's going to have to try to be more interesting now she's here. 'Sadly, she doesn't want to watch 38 episodes of The West Wing in a row.' [Observer]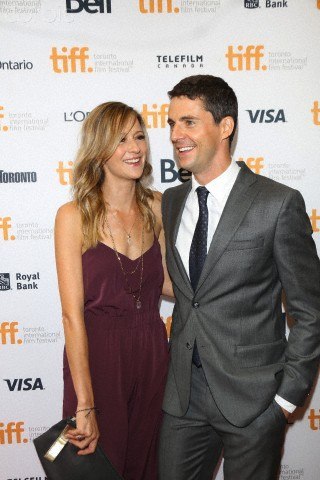 [Matthew & Sophie at TIFF in 2014]
Matthew and Sophie became parents in March 2009, to their daughter, Matilda Eve.
[Sophie Dymoke – shown on The Ellen Degeneres Show in 2010]
In September 2013 they had another daughter, Teddie Eleanor Rose, who was born early while Matthew was on his last day filming 'Pressure'.  He was released from filming early and made it just in time for the birth.  He told Matthew Rhys …
"We'd just had Teddy [Goode's youngest daughter]. I had just finished this film called Pressure—I was literally filming my last day in Aberdeen. It had been a really great shoot with Danny Huston, who's a joy. I got a phone call saying, "I'm going into labor," and I was like, "Oh my God!" So I spoke to my director, Ron [Scalpello], and Ron was like, "Shit. Right. Okay. We don't need you in this scene, so strike that. Let's film you out now and we'll be done in half an hour." Which is incredibly kind. So he shot me out. I got on a plane from Aberdeen down to London Heathrow. Got there. And then about two hours after I arrived, little Teddy was born." [Interview Magazine]
[Sophie Dymoke]
Matthew and Sophie were married in 2014 and had a big party in his sister Sally and brother-in-law Russ's large garden in Surrey.  We don't know exactly when in 2014 Matthew and Sophie married.  We first see Matthew wearing his brand new wedding ring at the Celebrity Cup golf tournament in July of that year and then at the Toronto Film Festival in September 2014 where he talked excitedly about being married at last.
[matthew frost]
[TIFF 2014]
In August 2015 they had a son – Ralph.
[Sophie Dymoke]
Is Matthew Goode a good father? It depends on the days. The noise stresses me. If there are two children crying, or screaming, I panic. In those cases, my wife takes care of it.[Style Italia 2017]
The couple have moved around a bit – living near Sophie's parents in Kent for a while and then moving to London.  When the opportunity came up to work in New York on 'The Good Wife' the family moved there to the Lower East side until April 2015. They lived in Teddington when they returned home from the US.
Matthew and Sophie have recently [2017] bought their own house in Surrey, although he joked that being a self employed actor did not go down well with the bank who gave him a mortgage on the house.
He is worried about Brexit ('What's happened? Where are we going?') but happy to be able to buy a house. He is a little anxious, too, about the last phone call from his bank: 'Being an actor means  living day by day. Banks don't like it.' [Style Italia Magazine]
Matthew described the view from his sofa in a Radio Times interview in 2018, which also refers to his wife Sophie's change of career –
I sit in the snug and watch the TV above the fireplace. I can see the cooker from the sofa, which is good, as I may have something on the go on the stove while I watch. We've only been living there for a year and a half but my wife [Sophie Dymoke] is an interior designer so she knocked the walls down and put in new furniture. We have a big L-shaped thing that we can get eight people on. My wife's mother likes the L part where she can put her feet up, which she deserves at her age.  I would have preferred the TV to be slightly bigger but my wife didn't want it to take over the house. I think we've both come to the conclusion that I was correct and we needed a bigger telly. [Radio Times Sept 2018]
Matthew is a hands on father and tries to work close to home if he can so he can get home to his family at the end of the day.
"They are always the priority. I just wish that I could work in England more. But you do have to go where the job takes you. It is not like I can pick and choose." [Syndicated interview 2013]
Matthew prefers to work in the UK if possible so that he can be with his family.
Are you not tempted to move to the USA?  MG – I have three children and I want them to grow up here. I don't like to go too far away. I told my agent I don't want to work in the US for a year.  [Style Italia 2017]
Matthew has talked openly about life in the Dymoke/Goode household.
What do you do at home? MG:I cook. It's less tiring than playing with a one-year-old child… I can do a little of everything: my father taught me the first recipes when I was about to start university. Over the years I have made a leap in quality, from scrambled eggs to stews. [Style Italia 2017]
Your best recipe? MG: Beef and Guinness stew. Two or three parsnips, a couple of carrots, two onions, some mushrooms. Two pounds of meat, a little flour. Mix it up, then slap it in the pot. Salt, pepper, some herbs and some beer. I love it. You put it on, you go get the kids from school, and when you come back, the house smells of dinner. [Style Italia 2017]
I cook the way my mother did — I make a lot of roasts. She also had a wonderful recipe for vinaigrette that got me into eating salad, although I'm lucky to be a beanpole. Sometimes my wife [Sophie Dymoke] and three children moan about it being our usual "Tuesday spaghetti bolognese" and I realise I have to broaden my repertoire. I get stressed if people try to talk to me while I'm cooking. The worst is at Christmas, when you're ferreting in the kitchen for 20 people and someone comes over for a chat. In summer, I love the barbecue and lots of fish.  [a slice of my life – Sunday Times]
Social Media
Until 2021 Matthew avoided any engagement with social media.  However he did join Twitter in May 2021 – for a few hours!
[Matthew's twitter profile picture]
Sadly Matthew deleted his account after gaining over a thousand followers in record time!
I shall finish this short biography with Matthew's Twitter description of himself to sum him up in his own words –
'Actor by trade. Golf and wine lover, in awe of friends on the European tour.  My life is my wife.  My children and my all.  Cynic but hopeful.  Onwards!'   [Matthew Goode – Goodey101 Twitter]