Press Archive 2008
Brideshead Revitalised – The Guardian – Alice Fisher – 21st September 2008
The much-loved original TV adaptation of Evelyn Waugh's 
epic novel was seen by many as the definitive production. 
No wonder Matthew Goode is fed up with being asked if he's 'channelling Jeremy Irons' for the new film version. The actor talks to Alice Fisher about nerves, fashion disasters and skinny dipping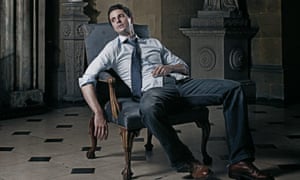 The Long Gallery in the Palladian west wing of Yorkshire's Castle Howard was conceived by the third Earl of Carlisle in the mid-18th century as a display gallery. It's home to a couple of Rubens, a Reynolds and two colossal da Tivoli landscapes. And today, in the book-lined octagon library that breaks its imposing 160ft length, it's also home to Matthew Goode who is telling an amusing penis anecdote to a roomful of journalists at a press conference for his new film, Brideshead Revisited
'It was cold – I think the crew will vouch for me on that,' he says of the day they shot a skinny-dipping scene in Castle Howard's Italianate fountain. His warm, Radio 4 voice fills the room and he folds his long, slim frame over the table in front of him, leaning closer to the avid journalists. 'My teeth were chattering. But it's liberating in a way, saying: "Hello everyone, this is my cock. I hope we can work with it for the next three hours."'Advertisement
The Long Gallery rumbles with laughter, and Goode smiles his very charming, very white smile.
It's a bravura performance and, as such, typical of Goode. In his short film career – just five to date – the 30-year-old has made a habit of being better, smarter, funnier and just more memorable than the role requires. He's probably best known as Tom Hewett – Scarlett Johansson's character's rich fiancé – in Woody Allen's Match Point. But he was equally menacing and affecting as a low-life American bank robber in The Lookout (2007) with Jeff Daniels, adorably hurt as a deserted husband in Brit comedy Imagine Me And You (2005) and even shone in his 2004 debut Chasing Liberty with US pop star Mandy Moore.
But his time distracting attention from the lead actors is over. Goode's next two roles are very big, both in adaptations of revered – if very different – books. Next year he plays Ozymandias in the long-awaited film of Alan Moore's graphic novel Watchmen. But first up is his turn as Charles Ryder in Evelyn Waugh's Brideshead Revisited. Both are already being scrutinised by legions of fans. Internet messageboards are clogged with discussions of Watchmen, but I think the taxi driver who drove me home after I watched a screening of Brideshead Revisited summed up the Waugh conundrum best. 'They're making a film of that? Why bother? I remember when that was on telly – everyone watched it, the streets were empty when Brideshead was on. I've got the boxset at home, in fact. Jeremy Irons was great… and that Diana Quick -whoooar.' 
 Goode is horribly aware of the opinion that the definitive Brideshead adaptation has already been filmed and of the hold Waugh's story has on the British generally – the 1945 novel and the 1981 TV series have become cultural shorthand for everything from the decline of the aristocracy to fashion trends. This year the new film's been linked to the revival of the Tories, the return of the cricket jumper and even Tony Blair's conversion to Catholicism. This has understandably put pressure on the production, which is directed by Julian Jarrold and stars Emma Thompson and Michael Gambon as Lord Brideshead and Lady Marchmain, with Ben Whishaw and Hayley Atwell as their children, Sebastian and Julia. Advertisement
'It is odd,' says Goode. 'I keep being asked in interviews what I'll be wearing this autumn. To be honest, jeans and a scruffy jumper like I always do. What would it prove if I said I was going to wear grey?'
It's the morning before the press conference and Goode and I are aboard the Orient Express, reclining in armchairs in a first-class compartment of a Twenties British Pullman as a five-course breakfast is served. We're travelling from London up to Castle Howard (which, as in the TV series, is used as Brideshead). The train is remarkable but noisy; and my armchair's vintage suspension means I bounce like a washing machine on spin cycle when it picks up speed, which means I keep getting the giggles. The overall effect is farcical and would make for an odd day for anyone, but Goode has just landed from a 10-city, month-long tour of the US for Brideshead's release there, followed by an appearance at California's Comic-Con, the largest comic-book convention in the world, where he gave a Watchmen press conference in front of 7,000 people. He's exhausted and thoroughly fed up of interviews , and is upset by some of the press he's read. 'It's hard pretending you don't care all the time,' he says. To me he seems to care too much, he's woefully hard on himself and his talent. At times it's like interviewing Eeyore. Though he's very handsome in a nice, old-fashioned way (it's easy to see why his main TV roles were period – Marple, The Inspector Lynley Mysteries and Trollope's He Knew He Was Right) right now bleary is the kindest word to describe him.
He admits he's particularly tired of questions about Irons. '"Did you channel Jeremy Irons?" Um, no. "Did you copy Jeremy's performance?" No.' He sighs. 'It's to be expected, but I thought I'd be thicker skinned.'
Goode's had to discuss the film's plot ad nauseam during his interview tour of America, too. The script – by period drama supremo Andrew Davies and Jeremy Brock, who adapted the Oscar-winning The Last King of Scotland in 2006 – emphasises the love triangle between Ryder, Sebastian Flyte and his sister Julia. The chronology is squished, characters have vanished and there's no voiceover, so the perspective of an older, wiser Ryder looking back at his life is lost – oh, and there's also a kiss for Charles and Sebastian. All of which will appal some fans of the book and intrigue others. 'It was hard without the voiceover,' says Goode. 'When you're got no words, it's difficult to be Mr Charm. I saw Charles Ryder as the loneliest person in the whole world. He had a loveless childhood growing up with no mother and a distant father – and who of us knows our father, anyway? Also, I'm no one, so just the fact that I was offered the part of Ryder is amazing.'
Brideshead's producer, Robert Bernstein, says Goode won the role because of his wonderful stillness. 'The sign of a truly great actor is not what he says but what he appears to say when the camera is on him, and Matthew has that.' Goode seemed mesmerising on screen to me, but he is so sure of his performance's shortcomings that nothing I say convinces him otherwise.
'Some people will have a problem with making the film into a love triangle,' he says. 'But I think that's just what happens when you adapt a book. I think the kiss [with Sebastian] is fine. I mean, you're damned if you do and damned if you don't, really. Some will see it as a cop-out that we didn't show more… all I can say is that it's such a good story and we had so much fun making the film, it came from a really good place. We realise that people might absolutely hate it. But I'm with Emma Thompson, Michael Gambon and Ben Whishaw – at least if we go down in flames I'll be in good company… God, I've got really defensive over the last month, haven't I?' 
The answer is yes, but he seems so sad that instead I point out the window and say, 'Oh look, we're at Alexandra Palace.'
'Ally Pally – good Lord,' says Goode, cheering up immediately once we've stopped talking about his work. We stare at the peaceful view over leafy north London as the Orient Express sets off slowly and Muswell Hill golf course rolls into view, already dotted with the pastels and brights of golfwear, though it's not yet 10am. 
'I'd rather be doing that today,' says Goode.
Golf? I confess I've never played.
'You should take it up. Golf courses are beautiful, it's good for the soul and it gets out the anger… well, if you don't care about the score then you won't have a heart attack.'
Oh, but I would care, I'm very competitive. 
'Yeah, me too,' says Goode. 'I talk the talk, but I'm the most competitive shit in the whole world.' 
He played a lot of golf 'in the pissing down rain' in Vancouver when he was on the Watchmen set, which hits cinemas in 2009. Goode hadn't read Alan Moore's celebrated graphic novel before he auditioned for the part of Adrian Veidt, the cleverest man in the world, whose alter-ego is the costumed hero Ozymandias. 
'I felt lucky not knowing it because I'd have gotten nervous,' he says. 'I hadn't even read the script, when I auditioned. There was nowhere to do it other than my hotel-room bathroom – I was still shooting Brideshead in Yorkshire – so I read for it sat on the toilet with a white bed-sheet behind me. I thought there was no way I'd get it.' 
But he did. Tom Cruise and Jude Law were previously connected with the role, but Goode will bring it to the big screen. 
'Two days after I finished Brideshead, I was out in Vancouver. That was good: one minute you're in white tie and tails, then in a vest and shorts practising kung fu.'Advertisement
Veidt's acquired German ancestry for the Watchmen film – another deviation from a beloved text that Goode will have to talk about endlessly. 'I'm not American… I'm the wrong age… there'll be people who hate it,' he says. 'But I explained the German thing at Comic-Con – no better time than in front of the fan boys, after all – and they laughed, but they might have been thinking, "This idiot's going to ruin it." What can you do?'
He's perversely insistent that his career is all down to luck rather than talent when I suggest that he's done very well to land such big parts so quickly – his first film role was only in 2004. 'I've been very lucky.'
It can't purely be luck. Your performances must be of a certain calibre, otherwise you wouldn't keep being cast.
'Well, I don't want to think about it. I get so horrifically nervous every time I work, and I'm in a general state of fear the entire way – which just gets worse and worse as times goes by. That's where I am now.'
He started acting as a child growing up in the Devon village of Clyst St Mary – his mother was director for the local amateur dramatic society – but gave up until his late teens because he went red on stage.
You're a blusher? 
'I am,' he says, going red on cue and putting his hands up to hide his face. 
Though he's technically the youngest of five, there's an 11-year gap between him and his brother James and the other three, who are half-siblings (his mother married twice; she's a nurse, his father, who died five years ago, was a geologist). He attended Exeter School and he appeared in The Plough and the Stars and Richard III, aged 17. Brideshead co-star Michael Gambon was also a big influence on his decision to act. Goode saw him in a theatre revival of Volpone in 1995 which, combined with growing up watching TV reruns of Dennis Potter's The Singing Detective, made him think Gambon was God. He decided to study drama, at Birmingham University. 
'My parents didn't necessarily have the greatest relationship and that meant I wasn't great with girls at school. I didn't see them as friends; I'd try and kiss them, but as I thought swearing was the way to be attractive, that didn't really work. At university I got more comfortable in my own skin. Then at drama school in London I met people who were cool. I had flatmates who wouldn't let me go out in chinos and check shirts, which is no bad thing.' 
Now he's blissfully settled with girlfriend Sophie Dymoke – 'she works in the business side of fashion. I still don't really know what she does; she's given up explaining it' – who has moved back to the UK from New York, where she worked for cashmere brand Vince, so she can be with him. His brilliant smile when he talks about her means Sophie's definitely made the right decision. Though he says he's going to have to try to be more interesting now she's here. 'Sadly, she doesn't want to watch 38 episodes of The West Wing in a row.' 
His quest to fascinate won't involve celebrity parties or red carpets, though. 'I don't rage against the dying of the light. I like a few pints, but that's it. I've never understood why people go to award ceremonies and premieres unless it's for a good friend or because you're nominated yourself. I mean, people can do what they want, but I'd feel like a charlatan.' 
What he really wants is to work out what to do next. He's had a year off from acting a couple of times already. 'I'm so lucky, my agent Simon Beresford lent me money for my rent. He's an extraordinary man and I sit here solely because of him. After my father died, he's become like a father, though he doesn't give me quite as many dressing-downs.' 
Goode thinks he'd like to go back to theatre. 
'I want to learn again and the only place I'll do that is the theatre. I want to get more confidence – if I'd don't find it in the theatre I'm stuffed.'
Hours later, back at the press conference in Castle Howard's Long Gallery, the room has finally quietened down after Goode's flirty penis story. The floor is opened for the next question and a suited journalist on the front row raises his hand. 
'Could I ask…' he starts.
'No, I'm not getting my cock out for you,' says Goode, his charming smile widening to a grin. 
The room roars with laughter. There must be only one person here who lacks confidence in Goode's charisma and talent for performing, and that's Goode himself.
· Brideshead Revisited is out on 3 October

English Translation follows.  Thank you to coolpaperbiscuittree on tumblr for the translation. – 
Vanity Fair Italia Interview – June 2008 English Translation – 
Where do I find the rent money?
"It wasn't my plan to be a fashion ambassador and, at the beginning, posing as a model embarrassed me. Although it may seem that there are similarities with an actor's work, in reality they are two different things and … achoo! Sorry, I have a cold and a fever."
Even though it's not cold, Matthew Goode has a woollen hat on his head. Recently thirty – Goode, an English actor with a very British accent and appearance – was the cute boy along the way who won the daughter of the president of the United States, namely Mandy Moore in Chasing Liberty, the rich fiancé (betrayed) of Scarlett Johansson in Woody Allen's Match Point and more recently, in 2007, the very bad bank robber in The Lookout.
Matthew Goode is in London. For two reasons: posing for the photo shoot you see in these pages, where he wears clothes – also very British – by Hackett, the brand he is an ambassador of, but above all moving to a new home with his girlfriend Sophie.
In addition to the cap, Matthew Goode is wearing a sweater and a pair of torn jeans which, he says, "are fine to mix with some more elegant pieces". Like the ones he will wear shortly, transforming himself from a boy ready to carry furniture on his shoulders to an English gentleman.
I read that you are always short of money. Is that why you agreed to do the modelling?
I am pleased and honored that they asked me, but it is also true that it helps pay the rent.
I have read that over the years it has often fallen to your sister to pay for you.
I am not particularly proud of it, but it's true. My family helped me with the expenses. Now, however, things are a little better.
Your new film, Brideshead Revisited, will be released in the fall, based on a novel by Evelyn Waugh, very famous in Britain for a television series a few years ago.
I had read it at school and had also seen the show. My character, Charles, who was portrayed in the television version by Jeremy Irons, and a student who, at Oxford University, gets to know Sebastian, the son of a wealthy, aristocratic family. During a stay at his friend's house, he is involved in a sort of love triangle with Sebastian and his sister, Julia
A rather different family, if I am not mistaken, from your own.
My mother was a nurse and is now retired. My father was a geologist, and unfortunately died five years ago. A very close family (composed of a brother, born – like him – from his mother's second marriage, and from two other brothers and a sister with her previous husband. Matthew is the youngest)
This is a so-called extended family
It's funny, but my extended family is rather small. I've never met my grandparents, and both my mother and father are only children. As a child I spent most of my time alone. Perhaps that's also why I became an actor.
When did you decide?
I'm really not sure I've ever made a final decision. I really like cinema, but it is an absolutely crazy world.
How do you mean?
You're always away and this is the most tiring part for me. It weighs on me not being able to be with my family and friends. I recently went to Canada for six months without being able to go home even once. I felt an enormous sense of loneliness. Don't get me wrong, I love what I do. If I think of those who have to go to an office every day, the (work) of an actor, I can't even consider it a real job.
So far they have called you "the new Brad Pitt" "the new Hugh Grant". After Brideshead Revisited, they'll say you're "the new Jeremy Irons". Who do you prefer to be compared to?
Unfortunately I don't look like Brad Pitt at all. I don't know what to say, all these comparisons are pleasant, but they're not the kind of things to which I dedicate attention. What really interests me is doing a good job and one day being able to go and live in the country.
Excuse me?
I'd like a house outside the city, to stay away from any intrusion (mimics the gesture of taking pictures) cultivate my vegetables in the garden, have children.
A dream or a project?
I hope to have a child within the next two years, but it depends on how the work will go. It is true that having a family and working in the cinema is complicated above all for a woman, but also for a man its not easy if you want to be a present father. As I said, cinema is a crazy world and the competition is very hard.
Give me an example.
Getting the part in The Lookout was a struggle. I had to pass eight auditions. I understand them: I am an English actor not particularly well known in the United States
But you had already made Chasing Liberty, an American film, although perhaps not a masterpiece.
Yes. Today I could say: "ah, that stuff for teenagers", but the truth is that without that film today I wouldn't be here, and I wouldn't have had other better parts. Moreover, it was fun, we shot in Prague and Venice
Based on what criteria do you choose to propose for a film, or to accept a part?
The criteria changes over time. At the beginning you can't choose. Is the movie being made? Good. And is it shit? Be patient.
Returning to your private life, waiting to take care of the vegetable garden, what do you do with your free time?
I see friends at home, or in some pubs
Speaking of pubs, is it true that when you found out you got the part in Match Point you got so drunk that you went home without shoes?
I only lost one, which is even worse. Every time I get a part I like to celebrate with friends: a nice dinner and some beer. In the case of Match Point, I was so happy that I overdid it. But it happened only that time: to celebrate the Brideshead Revisited we had a nice dinner with friends, my girlfriend … and then I panicked.
Why?
I didn't really understand Charles's character. Fortunately we started shooting more than a month later. I am like this: I need time to read and reread the scene, talk to the director and, when possible, with the other actors. It makes me feel calmer. Unfortunately it is always more difficult: cinema is a big industry where time is money. In Brideshead Revisited – I am practically in every scene – I worked continuously for three months, sixteen hours a day. It was gruesome.
And how was working with Woody Allen?
Relaxing and fast. He is very sweet, calm. Sits with the newspaper "okay … action" (mime the gesture of one who flips through the pages and occasionally peeks from above)
Sophie, your girlfriend, does she help you in any way?
Sometimes, to memorize the lines. But above all she gives me moral support. Thank God she's not an actress: I couldn't stand it
In addition to wanting to have children, do you also intend to get married?
I have a friend who got married early and divorced just as quickly. Sophie and I believe in marriage, but why force things? For now we are going to live together
Is this the first time?
Sophie is English but lived in New York. So far our relationship has been partly by distance, I went to her and she came to me. Now we have rented an apartment in central London, we are relocating. We bought some furniture, but we are still looking for the wardrobe. You need a huge one: it's incredible how many clothes a woman can have.
How did you get to know each other?
I first met her on the steps of my house. My neighbor was her friend. I immediately thought she was wonderful.
Love at first sight?
Quite. But I certainly couldn't say: "Hey you, come away with me" Fortunately, thanks to our common friend, we met again.
Your immediate plans once the move is over?
In the coming months, stay as long as possible with her. We have planned a vacation in Italy, a couple of weeks between Florence and the Amalfi coast. I said no to two big movies so I could stay close to her. She gave up her job and her life in New York to come and live with me, how could I tell her: "They offered me a good part, see you in a few months, bye"? Yet many do not understand. They ask me, "Why aren't you more ambitious, why aren't you more career-oriented?"
In fact it was what I was wondering too: why?
Because I love my girlfriend.