Get ready for a whole new Darcy – The Americans star Matthew Rhys plays literature's most iconic lover (sorry, Heathcliff) in BBC One's new three-part drama Death Comes to Pemberley.
Based on the novel by PD James, Death Comes to Pemberley is part Pride and Prejudice sequel, part murder-mystery and also stars Anna Maxwell Martin, Matthew Goode and Doctor Who's Jenna Coleman.
On set, Rhys opened up about stepping into Colin Firth's shoes – or rather donning his shirt – and reveals why his is a very different Darcy…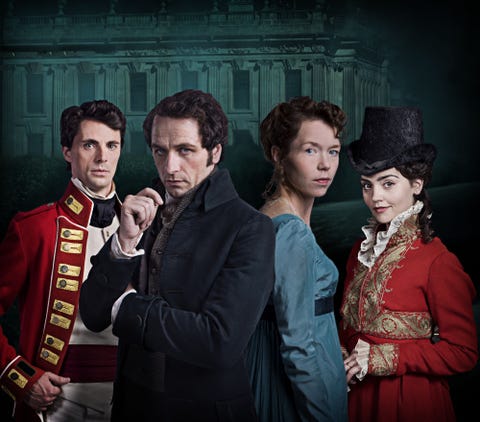 Matthew is slightly jealous of his co-star Matthew Goode…
"He's got it all – he's got the rock star looks, the rock star attitude, hollow legs, vast knowledge. He's like Stephen Fry – he knows something about everything… he actually knows a lot about everything.
"He's got that voice. He gets the accent for free – I feel like a complete fake. He's like Rik Mayall playing Flashheart."
…
Full article here – https://www.digitalspy.com/tv/a536252/death-comes-to-pemberley-matthew-rhys-on-darcy-and-billowing-shirts/
____________________________________________________________________________________